Fall Family Weekend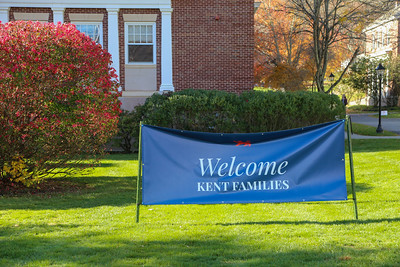 This past weekend, Kent was transformed into a bustling hub of activity for one of the year's most highly anticipated events: family weekend.  Thanks to fun activities such as lawn games and an obstacle course, the 12 home sports games that took place, and of course, good food, parents and students alike had an amazing time here at Kent during the event.
Ms. Fredritz, the director of the parent fund and the organizer of the family weekend event, has been at Kent for 6 years.  In working with parents in the alumni and development department, she has grown close to Kent families and to Kent's greater community, and this experience and knowledge proved invaluable when organizing our family weekend.
This year, Ms. Fredritz sought to evolve family weekend into a more effective window into the lives of Kent students.  In working in the alumni network, she quickly learned that "families want to know what their kids are up to."  The most important things to families visiting Kent are being able to meet their student's teachers and learn about the classroom environment, understand the academic and extracurricular programs offered at Kent that their student engages in, and to see the improvements made at Kent.  When sending a student from far away to attend Kent, parents put a lot of faith in the school, and one of the secondary focuses of the event is to highlight the constant growth and development happening here every day.  "It's a great opportunity to show families what we do here," Ms. Fredritz commented.
Due to COVID running rampant in past years, parent's weekend was difficult to arrange.  Although the parent's association at the school was strengthened due to frequent Zoom calls and checkups on students, the inability to actually visit the school safely was an inhibitor of communication and community growth.  This year, with family weekend as a key event, Kent was happy to welcome families back to school after COVID for the biggest family event in years.  
Because this weekend was the first time all families could freely travel here to Kent, and due to the sheer scale of the event, it took a lot of work to keep things running smoothly.  "There's a lot of pressure," she shared.  "We want it to go well."  With all twelve sports teams playing home games over the weekend, and with more than 450 people from all over the world coming to visit their students at Kent, family weekend was an incredible success, and was lots of fun for Kent students and their families alike.