Green Cup Challenge Encourages Environmental Awareness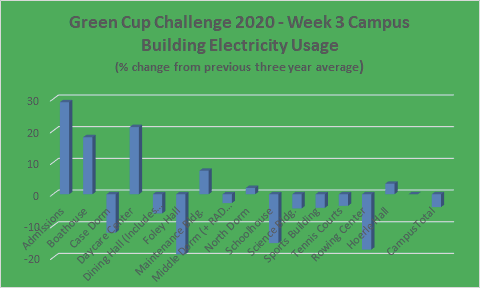 Every year, the Kent School community embarks on the Green Cup Challenge: a competition between the dorms to see who can reduce their electricity usage by the largest percentage in the name of conservation and environmental activism. In addition to Kent's recent implementation of solar panels on the hockey rink and McGowan field house, this is a great example of the many ways the school attempts to reduce its ecological footprint. As a fun incentive, the winning dorm can enjoy a prize at the end of the month.
In the first week of the Green Cup Challenge, Kent observed mixed results. Buildings such as McGowan field house and the Partridge Rowing Center reduced their electricity usage by 3% and 17%, respectively. However, most dormitories, except for Case, saw an uptick in energy consumption. A potential cause for these results could have been the epidemic of Influenza during this time period when many students were confined to their rooms. Yet, Case was still able to bring down their electricity output by 5%. 
As Kent finished up week two of the challenge, there was a large improvement, with energy usage dropping down to 1% below the yearly average, representing 530 kWh in energy saved. In addition to the previously noted energy-saving buildings, Dickinson, Foley, and the tennis courts saw large reductions. Case dorm continued to lead the charge with a 5% decrease in electricity usage for the second week in a row. 
When asked about the purpose of the Green Cup Challenge, environmental club leader Lucas Pfeifer '20 said, "It's really just one piece of the puzzle in Kent's effort to be more sustainable." As the challenge finishes up, Kent hopes to see even more reductions in energy and continue to increase the community's environmental awareness and conservation efforts.