Varsity Swimming and Diving Grinds Throughout the Season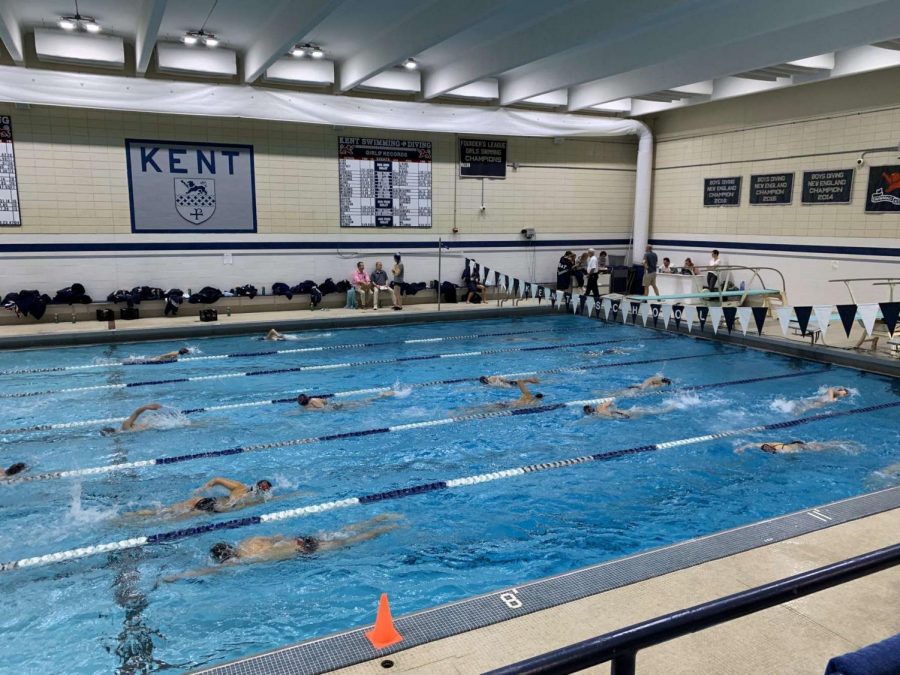 The Kent School varsity swimming and diving team has put forth a great effort through the first half of their season. Monday through Friday, both the girls and boys teams suit up and get ready to hop in the pool for grueling practices. 
When commenting on the boy's first home meet against the Hopkins School, a narrow loss 82-96, Co-captain Tyler Krasusky '20 called the Kent swimmers' performance "gritty" and mentioned how "the team was looking strong heading into our upcoming races." The girls team, led by captains Kate Dickson '20 and Caroline Haack '20, have also displayed promising talent, with the team placing at the Ethel Walker/Westminster meet. 
The diving squads, captained by John Kim '20 and Sawyer Russell '20, have improved throughout the season. Building upon his past few years, John Kim '20 has proven yet again that he is a standout on the diving board, earning his position as one of the best in the entire league with constant scores that surpass 180 points.
When asked about his experience on the diving team, Kim called it "a privilege" and mentioned how he will "cherish the memories made with fellow teammates." In a similar manner, Russell called the diving team "a close-knit family," further exemplifying the strong bond among Kent's divers. 
Kent will be sure to follow the swimming and diving squads as they progress in their season leading up to the Founder's League and New England championships in late February and early March.