Kent Girls Varsity Volleyball Crushes Canterbury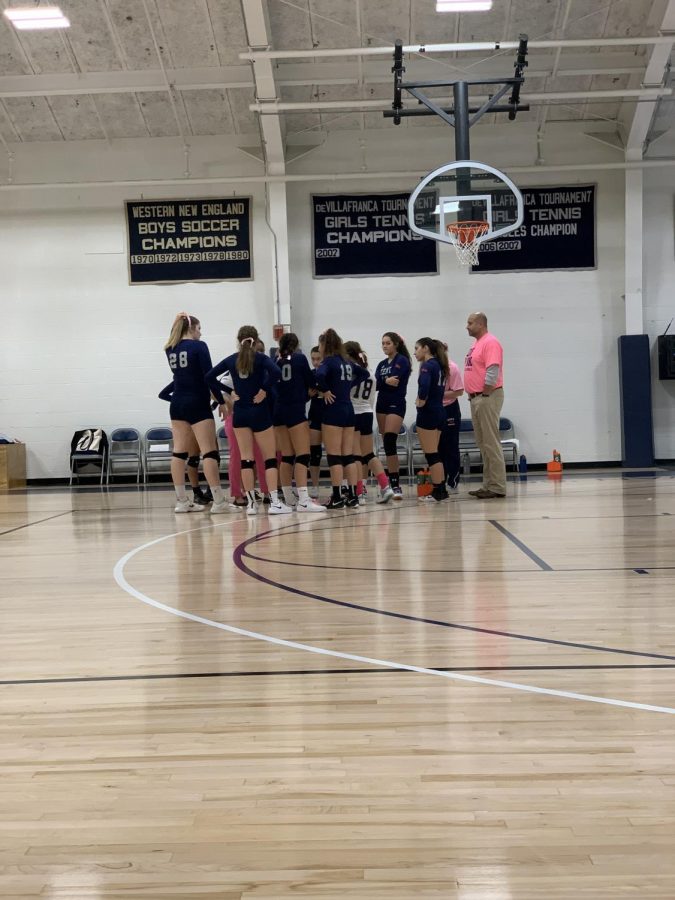 On Wednesday, October 30, Kent girls varsity volleyball took on Canterbury School and beat the Saints in all three sets., 25-19,  25-20, and 25-2. 
Following the game, Captain Gabby Sullivan '21 said, "I was really happy with this game.  I feel like we all worked very hard and kept high energy. We really worked well together as a team to pull out this victory." 
Before the game, Coach Coulombe noted how the girls have been tired from the grind of a varsity sport, as well as schoolwork. He says that "the biggest challenge is that we're a little run down. We need to make sure we do everything in our power to come refreshed and energized and play the best that we can." In the game, the girls did just that. They brought energy and excitement and were ready to play a focused game.        
In honor of Breast Cancer Awareness Month, the game was a "pink out." All of the girls wore pink ribbons in their hair to support the cause. Coaches Padroff, Coulombe and Russell, all rocked pink along with the students in the stands cheering on the Lions.    
Coulombe has high hopes for the future of the team. He says, "We have an opportunity to finish the season on a strong note." He also noted that the girls really have a great bond: "The girls really care about one another in a genuine way. I know a lot of coaches say that but this team really does. They support each other really well and I think that's really important to have in a season where there are going to be ups and downs."  
Along with great team chemistry, Coulombe explains, "We have had some terrific athletes on the team who have been doing a great job." He describes how there are some younger girls on the team who really contribute in significant ways, so he is also looking forward to the seasons to come.