Varsity Field Hockey Beats Suffield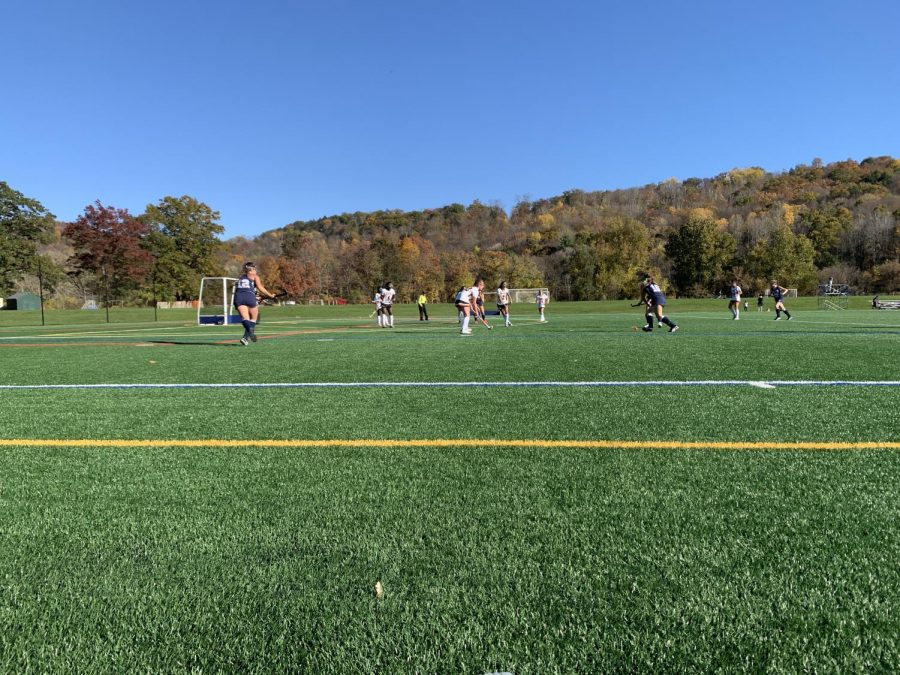 On October 23, 2019, Kents girls varsity field hockey beat Suffield 1-0.  It was a close battle, but the girls pulled out an impressive win.  
This year was the first field hockey has played Suffield since Head Coach Mrs. Duncan has been here. Before the game, Mrs. Duncan explains, "Looking at their record, they have similar scores to teams that we had. Hopefully, it will be a pretty good match up."  
As Mrs. Duncan expected, the game was very close. After the first half, the score was tied 0-0.  
It continued to be a tied game until Rachel Hart '21 buried a goal with eight minutes left. Captain Kaley Morgenstern '21 played in the ball off a corner, which then got shot towards the net, and Hart was there to get the winning rebound.    
Before the game, Mrs. Duncan also expressed how the team has really grown a lot so far this year. She explained that at the beginning of the season they were having a lot of offensive struggles, but they have now overcome this issue and are playing better than ever. She explained: "It's nice to see different people able to contribute offensively."  
What's more, Mrs. Duncan describes how she is "quite pleased with the on-field chemistry the girls have with one another. It just means going to practice every day is something I am super excited about and looking forward to." Mrs. Duncan went on to talk about how all of the girls love the sport of field hockey immensely, which makes them super fun to coach.  
Finally, Mrs. Duncan described how this year the team has really taken a hit with injuries. With center midfielder Rose Wesely '21 and goalie Liv Oyen '22 injured, it has been a struggle. Mrs. Duncan did note how she is really impressed with Olivia Marxer '23, who is just a freshman but has stepped up tremendously.