Girls Varsity Soccer Taking Strides in Right Direction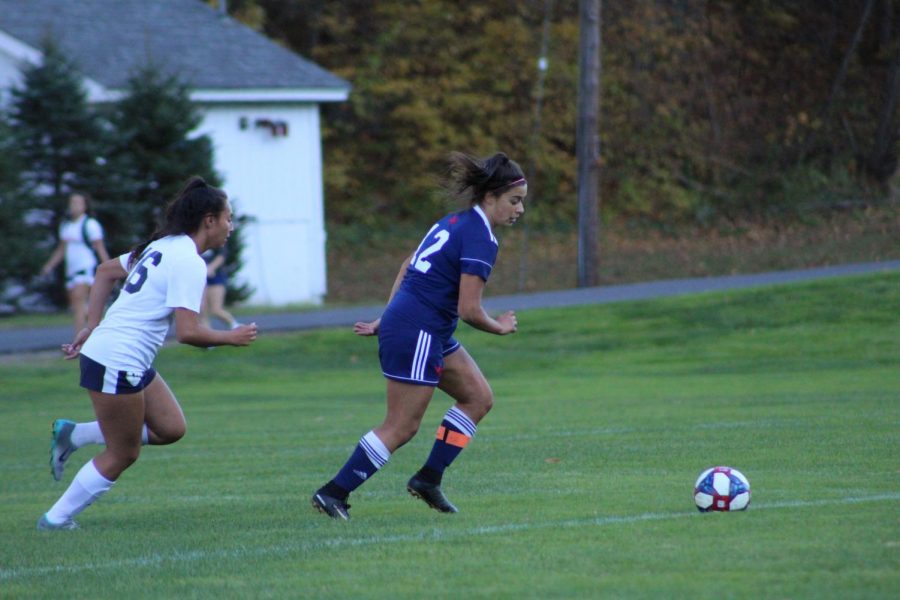 After a hard-fought game on Wednesday, October 23, against The Williston Northampton School, Kent girls varsity soccer is taking strides in the right direction. Losing 2-0, but playing hard the entirety of the game, it was not an easy win for Williston. 
This season has been a difficult one for the players, who have yet to bring home a win. Coach Gualtieri said, "The record definitely does not reflect our effort. We take a bit to get going, and other teams capitalize on the first fifteen minutes." 
This reality doesn't kill the energy of the team though, with captain Siena Smith '20 saying, "We are getting better every day. The new girls are working really hard and showing a lot of improvement. We are a really tight-knit group." She goes on to say, "We are really lucky to have Coach Gualtieri on our team this year, she has been a great addition to our team. Salatas and Klingers have been working us hard to keep us in shape."
When asked about players that stand out, Coach Gualtieri responded without missing a beat and began to offer immediate praise: "Siena Smith has unreal energy. She is always at an all-time high, during games or practice. She is great." 
Going further, when Coach Klingebiel was asked, he said, "Our captain. Everyone is willing to give their all and work hard to improve. Everyone is supportive of each other. It's a very positive year, and it goes back to Siena. She's our rock. She's ready to bring it every day, very positive, and never has a bad thing to say to anyone." Both coaches said fostering a good community on the team was an important element to a successful season.
Coach Gualtieri, a Kent Soccer Alum, came back to Kent this year as a Dean's Assistant and is excited to now be coaching. Coach Klingebiel is proud, saying "She's great. It's wonderful to have her back and on campus. It's really exciting to see how she's grown up and watch her get her coaching voice." 
Gualtieri went on to say: "So far it's been a pretty cool experience, getting to know all the girls. It took a bit for me to get back into soccer mode, but so far it's been great, the girls are great."
The girls will continue to fight for a successful season, and we look forward to watching them grow.