Students Attend the 2019 Asian American Footsteps Conference at Hotchkiss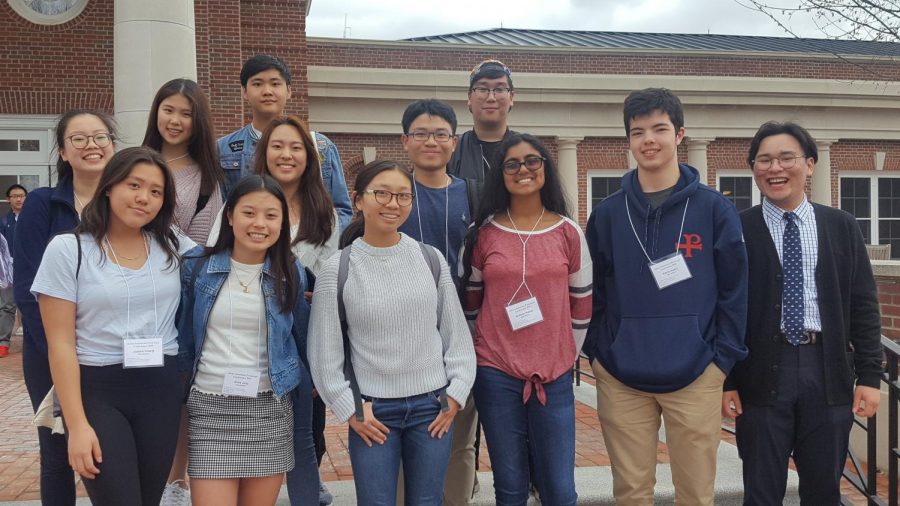 Cherim Kang, Campus Reporter
June 9, 2019
On April 14, a group of Kent students headed to Hotchkiss to attend the 2019 Asian American Footsteps Conference. This conference was for Asian, Asian-American and mixed-heritage Asian students attending independent secondary schools in New England.
The Asian American Footsteps Conference, also known as AAFC, was founded in 2011 to provide students with a safe space to explore issues specific to their experiences. Students at the conference were able to embrace their identity and culture, attend workshops and speakers, and foster a community within the independent school network.
Mrs. Cathy You, the faculty advisor of the Asian American affinity group in Kent School, says, "Kent students were able to attend various kinds of workshops about different topics such as Liberty in North Korea, Finding Filipino Identity, Asian American actors in Hollywood and more. Essentially, the specialty of these sessions were that it was mostly taught by students from different schools, and I was able to learn a lot of stuff from the students!"
She described how significant this event was for Asian Americans boarding school students in New England: "The 2019 AAFC became a great experience for me and also for our Kent Asian American students who attended. I was impressed by the keynote speaker Rosetta Eun Ryong Lee, who is a Social Justice and Ethics teacher in Seattle Girls' School. She gave speeches about communication and different aspects of diversity." She found it "particularly inspirational because it was the first time I have been to a conference where the speaker looked like me… it was a total new feeling for me, and I think that was the significant part of the AAFC this year."
Ms. Yasumura, one of the coordinators of 2019 AAFC, explains that the theme of this year's AAFC was 'Our Stories, Our Impact, Our Future.' She further mentions that the coordinators of this event did not just want to create a moment to come together but a movement that would help inspire lasting change.
Ms. Yasumura mentioned the workshops and activities held at the conference, explaining, "We offered twenty-five different workshops, mostly lead by student facilitators. These students all worked with faculty advisors at their home schools to prepare and practice their facilitation skills."
Through these activities, "participants were able to learn about the history of Asian Americans, the LGBTQ+ experience, Asian Americans and Mental Health, South Asian identity, the multiracial experience, and much more."
The workshops and programs included classes such as "What I Said & What I Meant: Improving Cross-Cultural Communication" by Rosetta Lee from Seattle Girls' School, "Part Asian, Part Something Else: What Does It Mean To Be 'Asian Enough'?" by Isabelle and Natalie Halsey from Loomis Chaffee School, and "Speaking Up: A History of Asian-American Activism" by James Lemuel and Katharine Wang from Phillips Andover Academy.
For the students who attended the AAFC this year a Hotchkiss, Ms. Yasumura wanted students to take away some important outcomes of this event. She wanted to highlight "the importance of taking action to create a more equitable school environment." At the conference, networking groups, led by a Hotchkiss student, included members from different schools and discussed "how they could take what they learned back to their campuses."
Collectively, the Asian American Footsteps Conference has become a symbolic event not only for Kent school but for all the secondary schools in New England. With our Kent student population being more than 30% Asian, this conference further expanded the conversation about diversity on campus. Next Year, AAFC will be held by Phillips Exeter Academy, in Exeter, New Hampshire, and we look forward to another inspiring experience.