Girls Varsity Hockey Brings Home the Win at NEPSAC Championship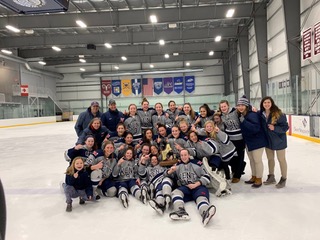 Brandon Schuster, Campus Reporter
April 1, 2019
At the end of winter term, after most of Kent had gone back home for Spring Break, our boys and girls hockey teams were busy preparing for the New England Preparatory School Athletic Council (NEPSAC) Championships. For the girls' team, it was the culmination of a tough and hard-fought season. They came into the championship seeded low in the bracket but overcame their opponents with determination and incredible skill. They returned home having won the championships.
The girls' team cruised through the quarterfinals on Wednesday, February 27, beating St. Paul's School in a 5-0 blowout. In the next game, they faced a more formidable opponent in Loomis Chaffee, who had beaten the #1 seed in the quarterfinals and defeated Kent back in January.
Coach Laurie Rousseau said, "there was a lot of motivation going into this game [and] from the moment the puck dropped, the girls executed everything flawlessly. While we scored some beautiful goals, our defense and goaltending did not give Loomis many opportunities to score. Every member of the team contributed to this win".
Finally, having secured a spot in the finals against Noble and Greenough School, the girls were nervous but ready to bring home a win. However, during the first two periods of the game, the team had difficulty completing routine plays, which Coach Rousseau attributed "to nerves." Nonetheless, goalie Catie Boudiette '20 was successful in preventing Nobles from taking a commanding lead.
By the third period, the Kent girls came back from a 1-0 deficit with a quick power play by Millie Sirum '19, followed by the game-winning goal by Kiersten Goode '19 with an assist by Cec Ehrhard '19.
By the end of the period, Haley Uliasz '19 and Julia Nearis '19 both fired two more goals, bringing the final score to 4-1 and giving Kent the win.
The moment was a special one for the team, especially for the seniors. Coach Rousseau noted that this team was especially focused on the championship.
"There was no question what the goal was for this group [who] came to the rink every day ready to compete and learned to play with more grit than they have in previous years," she explains.
She also praised the seniors, who "not only scored impact goals for the team but were also strong leaders on defense." In the end, though, she says that "all of them have made such a positive impact on our hockey program, and also in the overall Kent Athletic program as athletes and people." The girls of the varsity hockey team "epitomized what being a team or family really is."