Boys Varsity Hockey Caps the Season with NEPSAC Win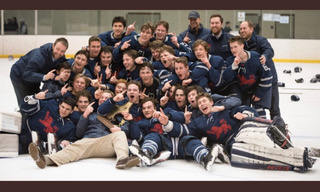 Brandon Schuster, Campus Reporter
April 1, 2019
Hang on for a minute...we're trying to find some more stories you might like.
It was a strong season for our boys' varsity hockey team, capped with a win in the large school New England Preparatory School Athletic Council (NEPSAC) Martin/Earl tournament.
Coach Reinhardt described the leadership of the seniors as the guiding force of the team this year. He says, "they were the guys who truly loved hockey and loved coming to the rink every day [and] pull for each other as the season moved along."
To him, those seniors who had been through many ups and downs in their three or four-year plays, including a disappointing 6-10-7 season last year, brought together the team and pushed them to a winning season, including a 10-0-1 streak in their last eleven games.
The boys beat Phillips Andover Academy in the quarterfinals, pulling ahead to a 4-2 win. In the quarterfinals, they faced Deerfield, with whom they had tied only two weeks before, in the last game of the regular season.
The Kent boys began with a strong lead, pulling ahead 4-1 going into the third period, but Deerfield scored four quick goals in succession, putting them in the lead. However, the game wasn't over yet, and the Lions fought back for a decisive win.
Coach Reinhardt credited our boys' resilience and experience in getting them to "pull together as a group [while they] could have felt bad for [them]selves and packed it in." He says, "we didn't get down on ourselves or each other and came through the other side for a dramatic 7-5 win. It is a game I will never forget."
He also credited Michael Posma '19, who scored three goals and three assists in the game, as carrying the team through the game.
In the finals against Cushing Academy, a strong line of Finn McLain '19, Alex Giummo '19, and Colin Cobb '19 provided the offensive power for a 2-1 win.
On the defensive side, Josh Stitch '19 and goalie Alex Contey '19 were able to limit a strong Cushing offensive to their singular goal. This team of seniors led the rest of the team into their well-played game, which allowed them to come out on top.
For the players, winning the championship was a special moment and the culminating moment of a great and rewarding season. For the seniors, it was a moment for them to cement a legacy within the Kent Hockey program, and for the underclassmen, a celebration with a team that has come together tremendously throughout the year. And, as always, they are looking forward to the next year.