Boys basketball battles Hotchkiss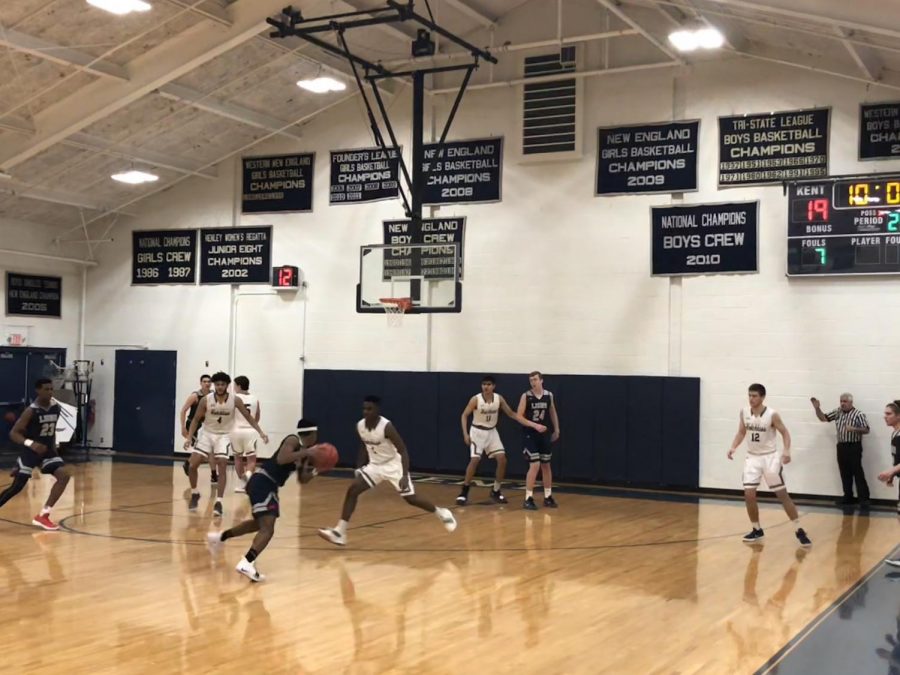 Alpin Yukseloglu, Campus Reporter
February 26, 2019
On Wednesday, January 23, Kent varsity boys basketball faced off against Hotchkiss in what proved to be one of the most challenging games for Kent this season.
"They're tall, they're athletic, and they play good defense," says Captain Cesar Brito Trinidad '19 minutes before the game started. "It's going to be a tough game."
Kent started by holding off Hotchkiss well, matching the first few baskets with impressively executed plays. As the end of the first half neared, however, Hotchkiss's lead started to grow. The first half ended with 16 points to Kent and 32 points to Hotchkiss, a point difference well within Kent's reach, and one that Hotchkiss spent the rest of the game defending.
As the second half ticked along, Kent consistently chipped away at Hotchkiss's lead. Trinidad drew an impressive foul by driving on two Hotchkiss defenders, both with a significant height advantage on him. He made the first of two foul shots and grabbed the rebound from the second, opening up the floor to a four-point play.
When Hotchkiss regained possession, Trinidad clipped the ball from the point guard. Coach Lee immediately called a time-out as three Hotchkiss players surrounded Trinidad on the floor, securing Trinidad his third steal of the game.
Height and athleticism, however, turned out to be obstacles Kent could not overcome as the game neared its end. With at least two rebounds on nearly every play, Hotchkiss had countless opportunities to match Kent's attempts to close the point gap. At the end of the game, Hotchkiss walked away with a hard-fought 67 points to Kent's 31.
In three words, Trinidad promptly sums up the cast-iron mindset that drives the team forward after their loss against Hotchkiss: "Kent on top."