Kent Varsity Girls Volleyball: An Inaugural Season Recap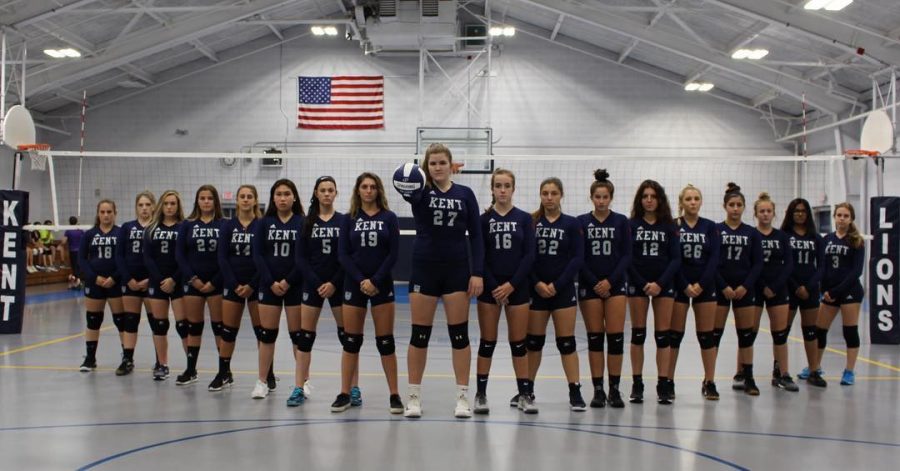 Alpin Yukseloglu, Campus Reporter
December 20, 2018
During the Fall of 2018, Kent School initiated its first interscholastic volleyball team. Led by Head Coach Anne Ross and Assistant Coach Bill Hamlett, the Kent varsity girls volleyball team finished an exceptional season in the face of difficult matchups and multiple injuries.
From their first game with Sacred Heart School on, it was clear that they were in for a challenging season. "The first game was by far the most challenging," says Hamlett. "Our character was tested as a team because Sacred Heart was simply a more experienced team." Sacred Heart brought the Kent Volleyball team to one point from a clean 3 – 0 sweep, when the girls suddenly came together and turned it around. The game ended with a narrow victory to Kent, "setting the tone for the season."
During one mid-season warmup, Jane Malafronte '19, a star player and co-captain of the team, landed on her ankle and suffered a season-ending injury. "Jane was without a doubt our most valuable player," says Hamlett, "and her injury could have absolutely thrown our season into a tailspin." However, the team found its way through. "Once again, the girls came together," says Hamlett, "people stepped up."
Many players showed immense improvement. Hamlett praised Gabby Sullivan '21 as "mature beyond her years, an incredible athlete, and a great leader." He concluded that she "was the key that let us put anyone out there in the court because we knew that if she was there, we could put in a combination of players who don't typically work well together, and she would make it work."
Hamlett also mentioned impressive improvement from players Ava Ehrhard '22, Morgan Lee '22, Nebeeka Saha '20, and Cinta Gonzalez Lopez '19, and added that there were many others as well.
Without a doubt, the first season of Varsity Volleyball set the bar high for future players. Hamlett believes that the team's spirit was their secret weapon: "The way that the team bonded was an amazing thing to witness."