Blithe Spirit: A Thrilling Fall Play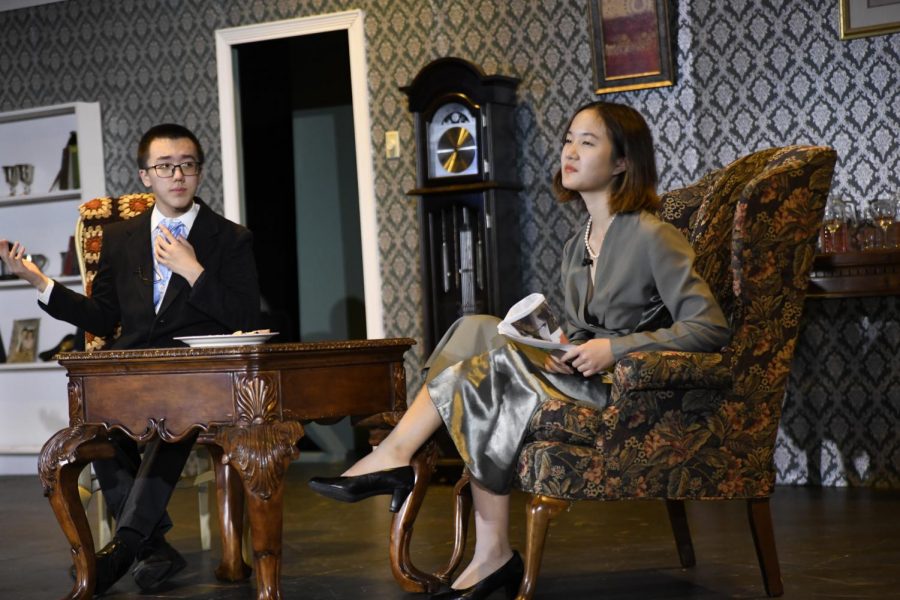 Mimi Lohanimit, Campus Reporter
November 24, 2019
On October 31, at 7:30 pm, the doors of Mattison Auditorium opened to welcome many members of the Kent community. Audience members received programs for this year's Upper-Form play, Blithe Spirit, and eagerly went to find the best seats in the house.
Last year, upper-formers performed Anon(ymous) by Naomi Iizuka, which is a modern tragic play. However, Blithe Spirit is a classic comedy that contrasts sharply with the previous show. "I know the show very well and have wanted to do it for a long time," said Theatre Program Director Mr. Stewart, who wanted Kent students to have a different experience from one year to the next.
Additionally, unlike Anon(ymous), which was very open in terms of design, the world of Blithe Spirit has a specific set that was constructed tirelessly by members of the stage crew.
Blithe Spirit is about a novelist, Charles Condomone, performed by Jason Li '20, who invites a clairvoyant Madame Arcati, played by Lily Honsinger '21 and Nicole Namath '21, to his house to gather information for his book.
However, the psychic accidentally summons his first wife, Elvira Condomone, played by Chloe Pfeifer '21 and Joanne Chang '21, who died several years prior. The house turns into chaos because of Elvira's spirit, causing his current wife Ruth, portrayed by Sarah Liu '20, to die. The supporting cast included Kevin Zhou '20 as Doctor Bradman, Dora Gao '23 as Mrs. Bradman, and Nicole Chan '21 as Edith.
Mr. Stewart says that, "This play is difficult to memorize because a lot of the words and language are challenging. It really took the entire fall term for them to learn their parts." And it was clear to see that every actor worked hard and successfully mastered their roles. We congratulate the cast and crew of Blithe Spirit on a fantastic show, and eagerly await their next performances.